Tom Chantler

7 min read

April 26, 2023

[Services] #automation #business-process-automation #process-improvement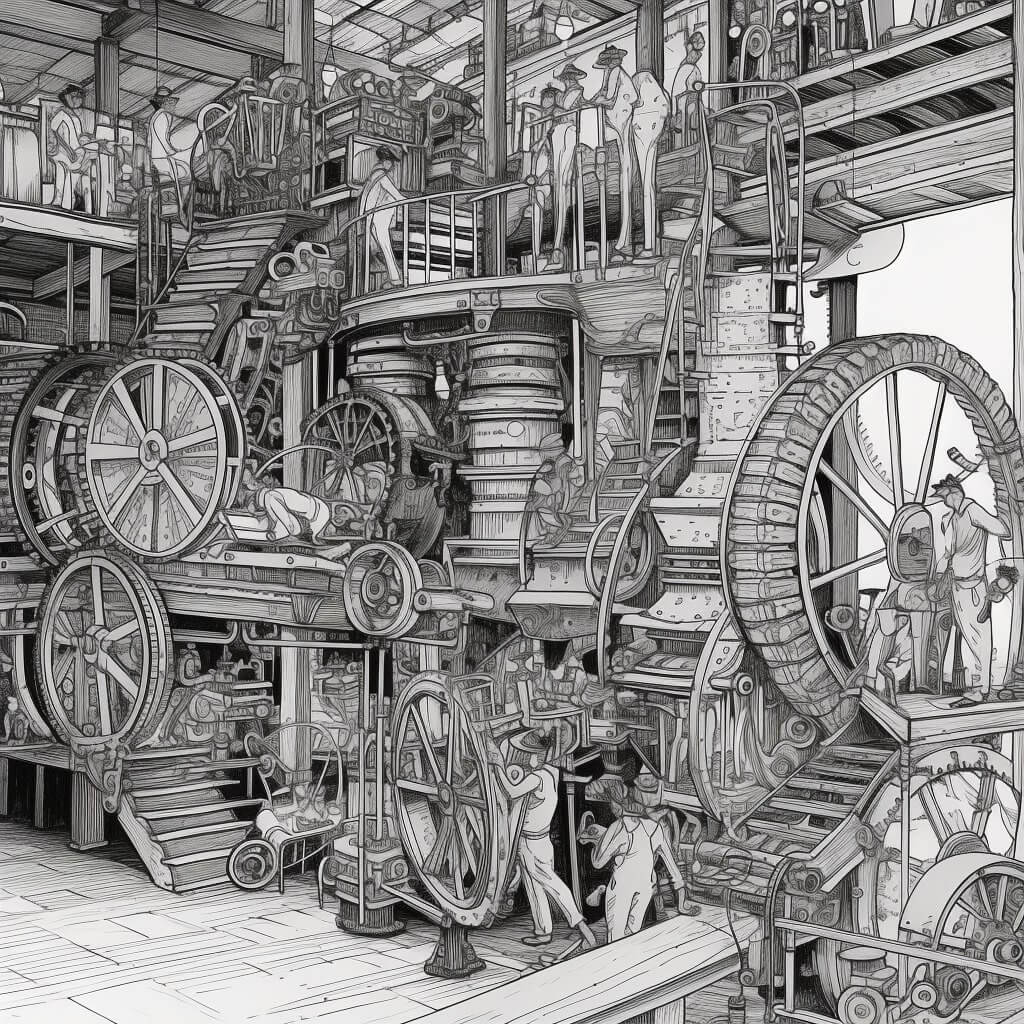 I spent under a minute automating the production of this picture by using Midjourney with the prompt shown below.
A black and white drawing of a completely automated factory making widgets, in the style of William Heath Robinson, featuring knotted string and bicycle wheels.
Introduction
In today's fast-paced business landscape, staying competitive often means finding ways to streamline operations and increase efficiency. One of the most powerful tools at your disposal is automation. By automating repetitive tasks and processes, you can free up valuable time and resources, allowing your team to focus on more strategic, high-value activities. In this article, we will explore the role of automation in optimising business processes and discuss how it can benefit your organisation. Specifically, we'll consider ten benefits of automation, ten factors to consider when identifying opportunities for automation, and ten steps to follow when implementing automation.
The Benefits of Automation
Improved efficiency: Automating manual tasks and processes can significantly reduce the time and effort required to complete them, leading to increased productivity and operational efficiency.

Cost savings: By reducing the need for manual labour, automation can help lower operational costs, including wages and overhead expenses.

Enhanced accuracy: Human error is inevitable in manual processes, but automation can help to minimise mistakes, resulting in more accurate and consistent outcomes.

Increased scalability: Automation can enable your business to scale more effectively by allowing you to handle larger workloads without the need for additional staff or resources.

Improved employee satisfaction: By automating repetitive, time-consuming tasks, employees can focus on more engaging and rewarding activities, leading to higher job satisfaction and reduced employee turnover.
The following lesser-known benefits of automation highlight the potential for transformative impact on businesses, going beyond the commonly cited advantages of cost savings and efficiency improvements.
Enhanced risk management: Automation can help to identify and mitigate potential risks in business processes by providing real-time monitoring, analytics, and alerts. This allows organisations proactively to address potential issues before they escalate, improving overall risk management.

Continuous improvement: Automation tools often come with built-in analytics and reporting capabilities, enabling businesses to collect valuable data on process performance. This information can be used to identify inefficiencies, bottlenecks, or areas for improvement, fostering a culture of continuous improvement and optimisation.

Faster time to market: By automating key processes in product development, testing, and deployment, organisations can accelerate their time to market, giving them a competitive edge. This can be particularly valuable in industries with short product life cycles or rapidly evolving customer needs.

Increased agility and adaptability: Automation can make it easier for businesses to adapt to changing market conditions, regulations, or customer demands. By automating the process of updating workflows, rules, or data, organisations can be more nimble and responsive to change.

Facilitating innovation: By freeing up time and resources through automation, businesses can focus more on research and development, fostering an environment of innovation. Automation can also be leveraged for rapid testing and validation of new ideas or concepts, accelerating the innovation process and increasing the likelihood of discovering new solutions, products, or services.
Identifying Opportunities for Automation
To maximise the benefits of automation, it's essential to identify the right processes and tasks to automate. Here are some factors to consider:
Repetitiveness: Tasks that are performed regularly and involve repetitive actions are prime candidates for automation.

Rules-based: Processes that follow a clear set of rules or guidelines can be more easily automated than those that require complex decision-making.

High volume: Tasks that involve handling large amounts of data or require frequent updates are particularly suitable for automation.

Error-prone: Processes that are prone to human error can benefit from automation, as it can help to reduce mistakes and improve overall accuracy.

Integration potential: Processes that can easily be integrated with existing systems and tools are more suitable for automation. Seamless integration can help ensure that automated processes work in harmony with your existing infrastructure and can enhance overall efficiency.

Standardisation: Processes with standardised inputs, outputs, and workflows are more amenable to automation. Standardisation makes it easier to implement and maintain automated systems, reducing the likelihood of encountering compatibility or operational issues.

Measurable ROI: Opportunities that have a clear and measurable return on investment (ROI) can be more appealing for automation. This includes processes that, when automated, result in significant cost savings, increased revenue, or improved customer satisfaction.

Low complexity: Tasks or processes that are relatively simple and have few dependencies are more likely to be successfully automated. Complex processes with multiple variables or interdependencies may require more advanced automation solutions or may not be suitable for automation at all.

Longevity: Processes that are expected to remain relevant and necessary for the foreseeable future are better candidates for automation. Investing in automating a process that may become obsolete or significantly altered in the near future may not yield the desired long-term benefits.

Minimal human intervention: Tasks that do not require a high degree of human judgment, creativity, or empathy are more suitable for automation. Processes that rely heavily on these human qualities may be more challenging to automate effectively or may result in a lower quality outcome.
By considering these ten factors when identifying opportunities for automation, you can make more informed decisions about where to invest your resources and which processes will yield the greatest benefits when automated.
Implementing Automation
Successfully implementing automation in your business requires careful planning and execution. Here are some steps to follow:
Assess your current processes: Begin by mapping out your existing workflows and identifying areas where automation can provide the most significant benefits.

Set clear goals and objectives: Define the specific outcomes you hope to achieve through automation, such as improved efficiency, cost savings, or increased accuracy.

Choose the right tools and technologies: Research and evaluate various automation platforms and tools to determine which best align with your goals and requirements.

Pilot and refine: Implement your chosen automation solution on a small scale to identify any issues and fine-tune the process before rolling it out more widely.

Train and support your team: Ensure your employees are well-trained in using the new automation tools and provide ongoing support to help them to adapt to the changes.

Design for exception handling: During the automation implementation, plan for possible exceptions or errors that may arise. Ensure that your automated processes have built-in mechanisms to handle these exceptions or alert relevant team members to take appropriate action when needed.

Establish clear communication and change management: Implementing automation may require organisational changes, and effective communication is essential in managing these changes. Keep stakeholders informed about the progress and goals of the automation project, and provide resources to help employees adapt to new processes and technologies.

Monitor performance and adjust accordingly: After implementing automation, continuously monitor the performance of your automated processes. Use key performance indicators (KPIs) to track progress and make data-driven decisions to optimise your automation efforts further.

Encourage a culture of automation: Foster a culture where employees feel empowered to identify and suggest opportunities for automation within their areas of expertise. This can help to ensure that automation becomes an integral part of your organisation's ongoing improvement efforts.

Regularly review and update automated processes: As your business evolves, your automated processes may need to be adjusted or updated to remain effective. Periodically review your automated workflows to ensure they continue to align with your business objectives, and make necessary updates to maintain optimal performance.
By incorporating these steps into your automation implementation strategy, you can help to ensure a smooth transition, ongoing success, and continuous improvement in your organisation's use of automation.
Conclusion
Automation plays a critical role in optimising business processes, providing numerous benefits such as improved efficiency, cost savings, and enhanced accuracy. By carefully identifying the right processes to automate and implementing the appropriate tools and technologies, you can unlock the full potential of automation to drive the growth and success of your business. If you'd like us to help you on your automation journey, get in touch.