Tom Chantler

9 min read

March 31, 2023

[Services] #cloud #on-premises #colocation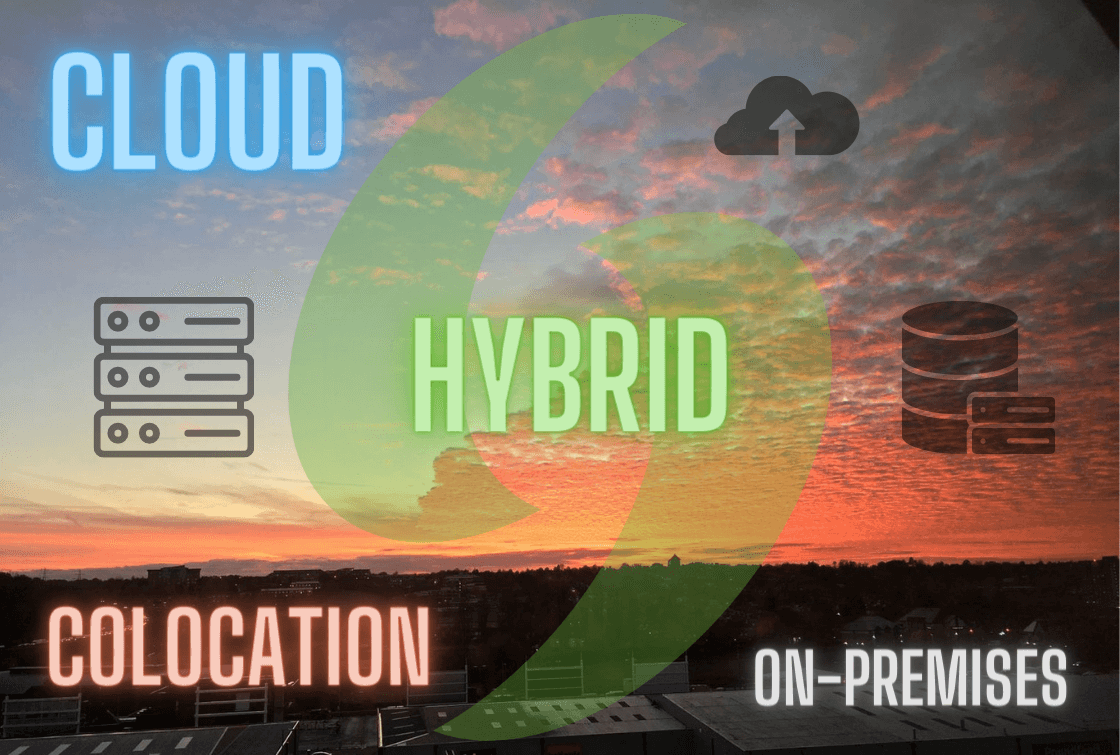 Introduction
At Chantler Solutions, we understand that each business is unique, and so are its technology requirements. Whilst the cloud offers undeniable benefits for many organisations, there are situations where on-premises solutions or colocation might be more suitable. Thus, it will come as no surprise that the initial answer to the question, "Should I choose cloud, on-premises or colocation?" is nearly always, "it depends". Cloud hosting offers a lot of advantages and, under certain circumstances, can be by far the cheapest option. But it's not always the right solution and care must be taken to control costs. In many cases, a hybrid approach is optimal. In this blog post, we'll briefly explore the key characteristics of these different infrastructure hosting models and then give a few examples of situations where each might be best. Our goal is to provide a tailored approach to help you choose the best infrastructure solutions that align with your business needs, drive efficiency, and reduce costs.
Why Cloud?
Cloud hosting enables businesses to leverage the power of remote servers, storage, and applications hosted by cloud service providers. This approach offers several advantages:
Scalability: Cloud infrastructure can easily be scaled up or down to meet your business needs, ensuring you only pay for the resources you use.

Flexibility: Access your applications and data from anywhere, at any time, facilitating remote work and collaboration.

Cost savings: Eliminate the need for large capital investments in hardware and reduce ongoing maintenance costs. Certain cloud services can be significantly cheaper than their on-premises counterparts.

Enhanced security: Cloud providers invest heavily in security, providing a high level of protection for your data.
Of course there are potential problems, too:
Data security concerns: Storing sensitive data in the cloud can raise security concerns for some organisations, as data breaches or unauthorised access to cloud resources could lead to significant losses or damage to the company's reputation. Of course, these problems are not unique to cloud infrastructure and the cloud providers tend to know what they're doing, but there are a lot of misconfigured cloud resources out there.

Dependency on internet connectivity: Cloud-based services rely on stable internet connections, which means that downtime or slow connectivity can impact the performance and accessibility of cloud-hosted applications.

Potential vendor lock-in: Migrating to a specific cloud provider may result in vendor lock-in, where switching providers can be difficult and costly due to differences in technology, data formats, or contract limitations.

Increased costs: If you get it wrong, cloud services can be significantly more expensive than self-hosting, especially if you are using automatic scaling of resources.
Why On-Premises?
On-premises solutions involve hosting your infrastructure within your own data center or office. This approach may be more suitable for certain businesses due to:
Data privacy and regulatory compliance: For organisations subject to strict data protection regulations, keeping data on-premises may offer better control over privacy and compliance.

Customisation: On-premises solutions can be tailored to meet specific business requirements, offering greater control over hardware and software configurations.

Performance: Some applications may perform better in an on-premises environment, especially if they require low-latency access to data or other systems.

Legacy systems: Businesses with significant investments in legacy systems may find it more cost-effective to maintain an on-premises infrastructure.
But there are reasons it might not be suitable, too:
High upfront and maintenance costs: Building and maintaining an on-premises data center can be expensive, especially for small businesses or startups with limited budgets. This includes the costs of hardware, software, networking equipment, and the ongoing expenses for maintenance, power, and cooling.

Limited scalability: Expanding on-premises infrastructure can be time-consuming and costly, as it requires additional investment in hardware, space, and resources to support growth.

Responsibility for disaster recovery: Organisations using on-premises hosting must invest in and manage their own disaster recovery solutions, which can be complex and expensive to implement and maintain.
Why Colocation?
Colocation is a hybrid approach that combines the benefits of on-premises and cloud solutions. With colocation, businesses rent space, power, and network connectivity in a third-party data center to host their own hardware. This approach offers several advantages:
Cost savings: By sharing the data center's resources, businesses can reduce the costs associated with building, maintaining, and operating their own data centers.
Scalability: Colocation facilities often provide more scalable infrastructure, enabling businesses to expand or contract their hardware resources as needed.
Enhanced security: Colocation data centers invest in robust security measures, including physical security, network protection, and redundant components, to ensure the safety of your data and infrastructure.
Reliability and uptime: Colocation providers often guarantee a high level of uptime and network performance, ensuring your systems remain operational and accessible.
Control and customisation: While using a colocation facility, businesses still maintain ownership and control over their hardware and software, allowing for customisation and flexibility.
And, as expected, here are a few reasons why colocation might not be the best choice:
Limited control over the data centre environment: While colocation provides businesses with control over their hardware and software, they may have limited control over the data centre's physical environment, such as temperature, humidity, or security measures.

Data centre proximity: Colocation facilities may not always be located near a company's headquarters, which can impact latency or make it difficult to access the facility for maintenance and hardware upgrades.

Additional management complexity: Managing colocated infrastructure can be more complex compared to fully on-premises or cloud-based solutions, as businesses need to coordinate with their colocation provider for certain services and must still manage their own hardware and software.
A few examples
In the rapidly evolving world of technology, businesses are faced with the challenge of selecting the most suitable hosting or infrastructure strategy for their unique needs. Here are a few straightforward examples which illustrate the advantages of cloud hosting, on-premises solutions, and colocation. This is by no means an exhaustive list; it is simply intended to provide a clearer understanding of the factors that may influence the decision-making process when determining the best infrastructure strategy for your business.
Cloud
Startups and SMBs: Small businesses and startups often have limited budgets and resources. Using cloud services enables these organisations to access advanced IT infrastructure without the upfront costs and maintenance expenses associated with on-premises solutions. They can scale their resources as needed, and only pay for what they use.

Seasonal businesses: For businesses with fluctuating workloads or seasonal demands, utilising cloud services allows them to scale their resources up or down as needed. This flexibility helps them to save on infrastructure costs and ensures that they have the necessary resources during peak times.

Remote workforce: Companies with a distributed or remote workforce can benefit from cloud migration, as it enables employees to access company resources from anywhere with an internet connection. This can improve collaboration, productivity, and employee satisfaction.
On-Premises
Compliance and data sensitivity: Industries such as finance, healthcare, and government often have strict regulatory requirements regarding data security and privacy. In these cases, on-premises hosting may be the best option, as it provides greater control over data and infrastructure, making it easier to comply with regulations. This is something many cloud providers are working hard to address.

High-performance requirements: Businesses that require high-performance computing or low-latency access to their systems, such as gaming companies or organisations that rely on real-time data analytics, may benefit from on-premises hosting. This model enables them to optimise their hardware and network infrastructure to meet their specific performance needs.

Customisation and control: Organisations that require complete control over their infrastructure, such as those using custom applications or hardware, may prefer on-premises hosting. This model allows them to tailor their systems to their exact requirements without the constraints imposed by cloud providers.
Colocation
Growing businesses with existing hardware: Businesses that have already invested in their own hardware but require more space, power, or network resources can benefit from colocation. This model allows them to maintain ownership of their hardware while leveraging the benefits of a professional data center, such as enhanced security and redundancy.

Hybrid IT strategies: Companies that want to combine the benefits of cloud computing and on-premises hosting may choose colocation as a middle ground. This approach allows them to colocate their mission-critical or sensitive applications and data while using the cloud for less critical workloads or storage.

Disaster recovery and redundancy: Businesses that require a robust disaster recovery strategy or need to maintain high availability for their systems can benefit from colocation. By colocating their infrastructure in multiple data centers, they can ensure redundancy and minimise downtime in case of a failure or disaster.
Our Approach
At Chantler Solutions, we recognise that cloud hosting, on-premises solutions, and colocation each have their merits, and that the best choice for your business depends on your unique circumstances. Our experts will work closely with you to:
Assess your current infrastructure, requirements, and goals.
Identify potential cost savings, efficiency improvements, and energy reductions.
Evaluate the pros and cons of cloud migration, on-premises solutions, and colocation in the context of your business.
Develop a customised plan that balances performance, security, cost, and compliance.
Conclusion
Whether you're looking to start in (or migrate to) the cloud, implement on-premises solutions or explore colocation options, Chantler Solutions is dedicated to helping you find the most efficient, cost-effective, and energy-conscious solution for your business. Contact us today to schedule a consultation and discover the right infrastructure strategy for your unique needs.